Juggling rings get bent! You can stop this!
How to build a ring press and why.
To build a ring press you need these things.
1 - Bolt with threads all the way up.
3 - Washers
1 - Nut
1 - Wing nut, Try to get the same thread type for your nuts and bolts, it makes things easier.
2 - plywood disks the diameter of your rings. (Mine are Todd Smiths and 13 3/32") This will be the hard part, so it has it's own page.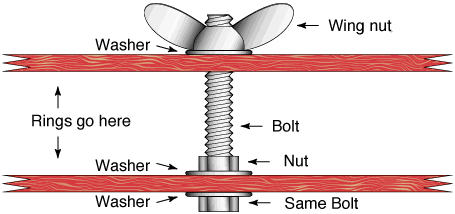 Use the pictures to figure out how it goes together, I'm not going to do everything.
Once your juggling rings are in the press gently tighten the wing nut. Hold the press like you would a steering wheel and tap it on the ground, turn partly and tap again. This will align your rings in the press and you can then tighten the wing nut snugly and enjoy juggling flat rings from now on.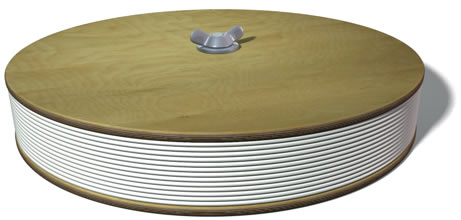 Here's a sneak peak at the ring press of the future.